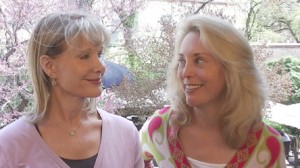 "VANESSA PIERSON" SERIES–THE PERFECT COLLABORATION
Before writing novels, I founded a non-profit theater company where I served as artistic director for five years. Writing and producing plays and working with actors, directors, and other playwrights, as well as with set- and sound-and-light-designers and crew—that all adds up to an exhilarating and challenging collaborative process. As stimulating as it was, I found myself longing to focus on fiction, and I went on to publish five novels and a number of nonfiction books—all as sole author.
When the opportunity came to collaborate with former CIA covert operative Valerie Plame Wilson as co-author on a new spy series, I was excited and a bit daunted. But the advantages were too obvious to resist—an inside look at the world of intelligence and a chance to research and write about issues I care deeply about, particularly the all too real dangers of a world in conflict with the ongoing proliferation of nuclear, biological, and chemical weapons.
Ultimately, in a strong collaboration, what matters most is sharing a vision. Valerie and I both love working on the "Vanessa Pierson" series and we are thrilled with the response to BLOWBACK, the series debut.